IT Outsourcing Services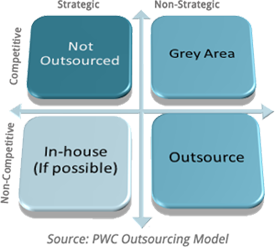 Why Outsource The benefits of outsourcing are of course are variable, dependening upon the nature and situation of the organization. However a survey performed by PWC clearly explains the Top 5 reasons behind outsourcing-
Lower costs (important or very important for 76% of respondents).
Gain access to talent (70%).
Farm out activities that others can do better (63%).
Increase business model flexibility (56%).
What to Outsource Here is the PWC model that best explains what to outsource
Benefits of Outsourcing
Ample time to focus on your core competencies
Increased productivity and Efficiency
Skilled Expertise with greater flexibility
Reduced Time to market
Lower Operational expenses over the years
Faster time to market
Our IT Outsourcing approach Below is a high level description of our IT Outsourcing approach
Discover Phase This phase is utilized to understand the current Technology landscape and its associated complexity and readiness.
Understanding the key objectives behind outsourcing and translating them into reasonable milestones
Initial assessment of the Technology landscape
Preparing the Outsourcing plan
Defining Risks and mitigations
Contract finalization
A thorough Due-Diligence
Defining RACI and the Delivery organization
Service level agreements

Agreement on Payment terms
Contract signoff
Implementation
Setting up the monitoring and reporting structure
Setting up the infrastructure

Setting up the communication channel
Transition of services ( Phased/ Big bang approach)
Sustained Phase
Stabilize services, SLA commences
Improving productivity